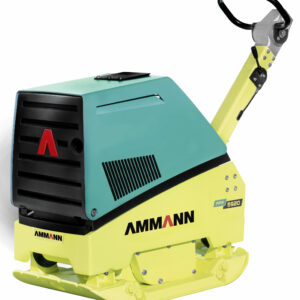 Accesories
With a working width of 75 centimetres, even larger areas can be processed quickly and efficiently. The powerful vibration allows high hourly performance and even working on inclines is no problem. And so it is true here that this is a Big but well-handled machine.
With a weight of 440 kg, the APR 5920 is the heaviest of the APR series vibratory plates. The machine is powered by a powerful 6.6 kW diesel engine. This bi-directional vibratory plate is characterised by its excellent manoeuvrability and climbability, allowing compaction on slopes with a slope of up to 30%.
It is one of the fastest machines available on the market. Performance can be enhanced with optional mounting angles in 75 mm and 150 mm dimensions.
An overview of all the advantages of the APR 5920 from Ammann:
powerful Hatz diesel engine with electric start and backup starting
the low-vibration handle shape allows an optimal grip
twin shaft vibration unit allows easy change of direction of travel
on-site compaction option for compaction of difficult surfaces
Increased work safety due to low vibration on hands and arms
Vibration-dampened guide rod for better control and low fatigue
Extremely simple push and pull control
open drawbar design prevents accidental lifting of the machine
Steel engine cover protects all engine components from construction site hazards
infinitely adjustable hydrostatic unit facilitates changes in forward – reverse movement
central one-point suspension for safe and easy transport
Add to cart